Microsoft has announced that it will not offer support in 'any capacity' for PHP for Windows 8.0 when it is released.
Microsoft has been providing support for the development and building of the PHP programming language on Windows. This support includes developing security patches for PHP and creating native Windows builds.
With PHP 8.0 scheduled for release in November 2020, Microsoft PHP Windows Lead Dale Hirt stated on the PHP Internals mailing list that they will not be supporting PHP 8.0 for Windows.
"We know that the current cadence is 2 years from release for bug fixes, and 1 year after that for security fixes.  This means that PHP 7.2 will be going out of support in November.  PHP 7.3 will be going into security fix mode only in November.  PHP 7.4 will continue to have another year of bug fix and then one year of security fixes.  We are committed to maintaining development and building of PHP on Windows for 7.2, 7.3 and 7.4 as long as they are officially supported.  We are not, however, going to be supporting PHP for Windows in any capacity for version 8.0 and beyond," Hirt posted.
To add some clarity to Hirt's post, PHP Release Manager Sara Golemon posted to Reddit explaining that this does not mean PHP 8.0 will not be supported in Windows. It just means that Microsoft will not be the one building and supporting it.
"For some possibly missing context, Microsoft runs https://windows.php.net and produces all the official builds of PHP for Windows. If you run `php.exe`, or `mod_php7.dll` or whatever the websapi versions are actually called, then you either use Microsoft's own builds of PHP or you're compiling it yourself.
This message means Microsoft aren't going to produce official builds for PHP 8 onwards.
This message does NOT mean that nobody will."
Microsoft has not stated why they will no longer support PHP 8.0, but it could be due to the extensive PHP support already existing in the Windows Subsystem for Linux (WSL).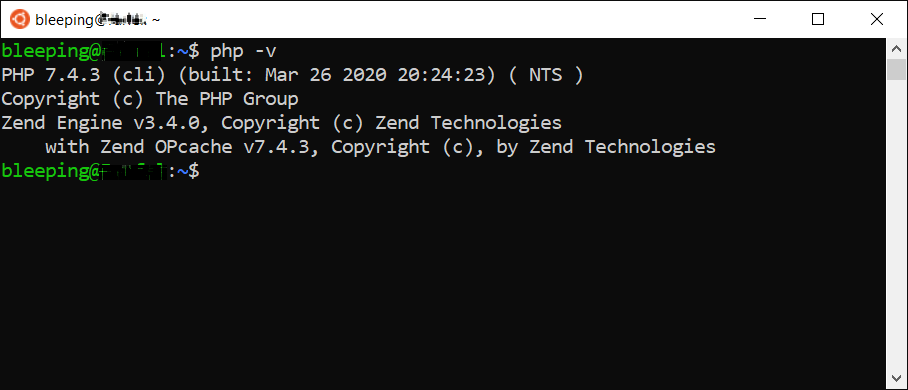 Microsoft has been actively developing WSL, which allows users to install various Linux distributions that run directly in Windows 10.
As these distributions already support PHP 7.4 and will support PHP 8.0 when released, Microsoft may see it as unnecessary to continue supporting a native PHP build in Windows.
BleepingComputer has contacted Microsoft with questions about this change but has not heard back yet.